I'm officially on summer break and lovin' it!!! I have spent my first day off pinning, looking for papers and ideas for next years theme, reading blogs, and entering giveaways!
Boy are there some awesome summer giveaways going on right now! Here are 5 I entered today that you may be interested in!
I'm also linking up with Educasong for her "Best Seller of the Year" linky party!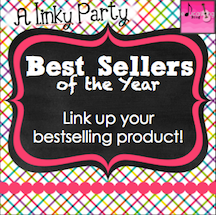 My best selling product this year by far was my "Ladybug Life Cycle Unit!"
My second best selling product was.......
Head over and see Sara at Educasong to link up your best selling product(s). If you don't have a store, you can still head there and check out all of the best selling products that are popular and working for other teachers and see what you may have been missing out on! I know I found some really awesome resources I wish I would have had this year!
And don't forget to enter the giveaways!